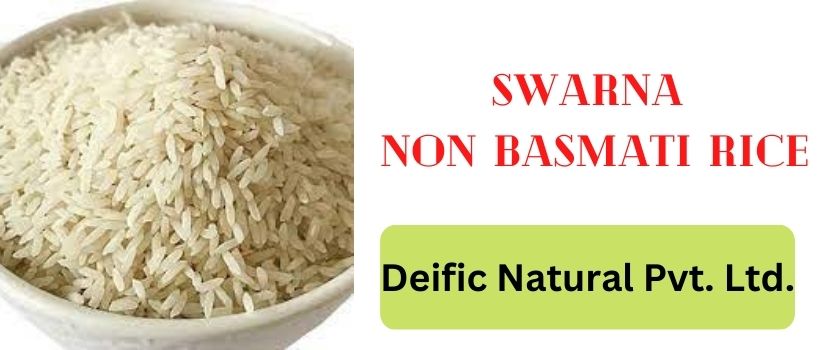 Every kitchen must have rice as a basic ingredient. Without both basmati and regular rice, no dish is complete. Additionally, rice comes in a variety of colours, including brown, white, and red. There are many varieties of rice. But basmati and non-basmati occupy a particular place in the hearts of consumers. These rice varieties are offered by Swarna Non Basmati Rice Supplier. They are used in a variety of recipes and on various occasions.
Non-Basmati Rice
Non-basmati rice still holds a distinct position in the world of rice when it comes to being a staple diet. Since it can be utilised in a variety of ways, it is regarded as a complete dish that gives any cuisine a delectable flavour. The sticky ingredient in this rice is a starchy compound known as amylopectin. It is used in many cuisines because the individual grains stick together once they have been cooked. Round non-basmati rice, jeera rice, and sona masuri rice are some varieties of non-basmati rice.
Non-Basmati Rice's Place of Origin
This expensive variety of rice is primarily grown in the Indian states of Haryana, Punjab, Uttar Pradesh, Andhra Pradesh, Telangana, and Karnataka. This variety of Indian rice has gained popularity throughout the world due to its extra-nutritious and distinctive attributes.
Benefits of Non Basmati Rice
Non-basmati rice is available in a variety of types, shapes, and sizes. Some varieties are round, while others are long and slender, short and thick, bead-like, and more. The following non-Basmati rice varieties are available here.
In India, rice is a staple food that offers a number of advantages. Here is a summary of the several varieties of Indian non basmati rice along with their nutritional advantages.
Black rice
A staple of South East Asian cultures, black rice is a great source of iron and vitamin E. Even more so than blueberries, black rice has one of the greatest concentrations of the antioxidants called anthocyanins. People with diabetes and Alzheimer's disease should take it.
Red rice
Despite the red rice's unappealing flavour, you should choose it if you want to keep active and fit. Nobody is aware that red rice contains a lot of iron and vitamin B6. Red blood cell and serotonin production are balanced by the vitamin B6 in it.
Polished white rice
White rice is suggested for kids and the elderly because it is the simplest food to digest at any hour of the day. The majority of Indian households eat white rice since it has a high carbohydrate content and gives them a lot of energy. Additionally, it aids in the relief of digestive issues like colitis, dysentery, and diarrhoea.
Conclusion
Non-Basmati rice and Basmati rice are distinct. Long-grain rice is basmati. While non-basmati rice is available in a wide variety of sizes and shapes, including long, thin, short and thick, bead, and even some that may be round. The aromas of the two are distinct. None possess the same qualities as basmati. In contrast to non-basmati rice, which has only a portion of the long, thin shape and may have either the scent or the elongation but not both, basmati rice releases a nice aroma when cooked.